Published: 27/10/2021
By DR
The average time to sell a house in the UK can be a lot longer than you might first think. From getting a mortgage in principle to exchanging contracts and finally completing, can take anything up to six months. There are numerous stages and stumbling blocks along the way and being prepared for a lengthy wait can be key to managing your expectation levels right from the start.
In this blog post we explain the wide range of time frames and variables associated with selling a house and what you can do to speed up the process.
Average time to sell a house
There are several factors to be considered when asking 'how long does it take to sell a house?'
Firstly, the key players involved can all impact on the time frame. From the professionals to
property buyers
, there's no exact science when it comes to people's emotions, their individual circumstances, or thir financial motivations.
However, it is possible to make an average estimate when it comes to other key components in the buying and selling process. For instance, it usually takes just a couple of days to apply for and successfully receive a mortgage in principle from a bank or building society.
From there, unfortunately, the average time to sell a house does tend to take a lot longer.
Below are the approximate times worth considering if you're thinking about selling your house:
The time it takes to place a house on the open market to when an offer is accepted is traditionally around two and half months (although this has been much less recently).
Once an acceptance offer is made there will be conveyancing searches and enquiries made on your property by a solicitor. This process usually takes about a month.
At the same time the property (conveyancing) searches are taking place the mortgage will be in the process of being arranged. This can take anything up to six weeks to finalise. A survey or valuation will usually need to be arranged early on during this process.
Once the searches have been ordered and carried out, and all enquiries have been satisfied, it'll be time for both buyer and seller to exchange contracts.
After both parties have successfully exchanged contracts the completion of sale can go ahead, once the deposit has been paid and the mortgage funds drawn down from the lender.
In summary: the average time to sell a house from the day the property is listed to the day the sale is completed can be anything up to six months.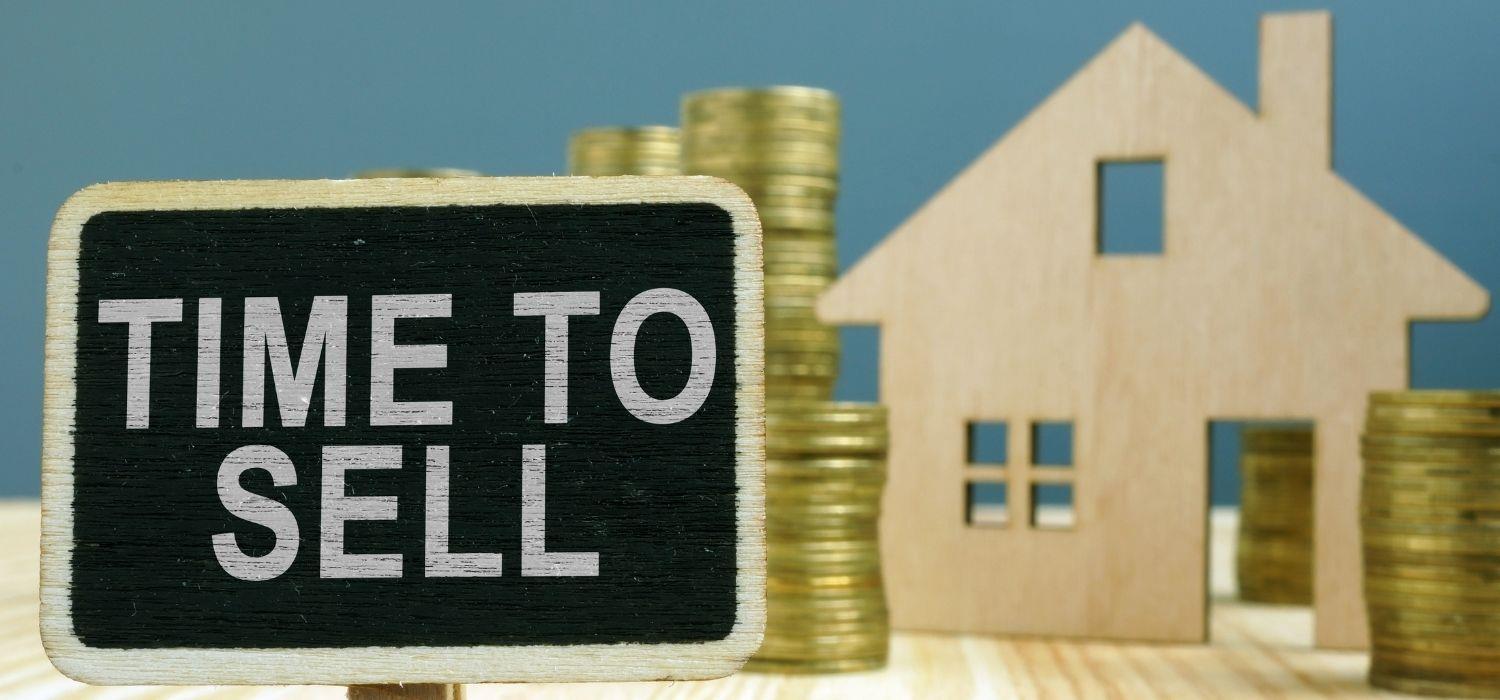 How long does it take for a house to sell with no chain?
Although there are a few stumbling blocks that can slow down the process, properties that aren't part of a chain do tend to sell quicker than those that are.
Having cash available is also another key element to ensuring an efficient sale because you're free to move when others might not be.
On average it takes eight to ten weeks from the acceptance offer to completion for a house to sell with no chain.
Reality check: did you know that just 10% of property sales in the UK are chain free? This occurs for several different reasons:
The property owner has moved out of the country
The owner of the house has died
The house has been purchased by an investor
The property is a new build residence – you're purchasing from the builder
Why is my house sale taking so long?
There are numerous contributing factors as to why the sale of a house isn't going through as quickly as you'd first envisaged. Often delays occur because of things that are simply out of your control.
The best advice is to be as patient as possible and have a backup plan if the process is taking too long.
If you want to know how long it takes to sell a house, you need to take several things into consideration first.
Below are the most common reasons for hold ups however, you never know what else might be waiting around the corner – prepare for the worst and hope for the best!
A lengthy chain
The more links in the chain the more opportunities there are for a stoppage to occur. Prices need to be agreed, legal documents need to be completed, money needs to be transferred – the more key events are in the chain, the more time-consuming the process will be.
Sellers/buyers
As this is probably one of the most important decisions you, and other people in the chain, will make in their lifetime, it's inevitable that worries will happen. Getting cold feet is often a key reason for pulling out of a sale and you simply can't legislate for emotional attachment when it comes to home-owning and selling. Also, circumstances change, people lose their jobs, fall out with each other, have medical issues. This has serious knock-on effects for everyone in the chain and it can be extremely frustrating when things go wrong, but try to be patient and empathise with other parties. Also, consider how far you're willing to compromise in order to help a sale go through.
Conveyancing
This is usually the most time-consuming part of the whole house selling process. As legal documents need to be completed to an official and professional standard, it's not something that can simply be rushed through. There are many important tasks that need to be undertaken so try to help by completing and submitting your paperwork on time.

Estate agents
Ensuring estate agents and the solicitors in charge of the conveyancing work are communicating with each other is vital for an efficient sale. Having one point of contact at an estate agents is also important to help keep you in the loop when it comes to any potential hold-ups.
When is the best time to sell a house in the UK?
After the winter is often thought of as the best time to sell a house in the UK. Trees are budding, bees are buzzing and thick woollies are being swapped for clothing more akin to the spring.
The chances are that an estate agent will tell you that there's never a bad time to sell your house but if you can hold on for a couple of months you might find you have an even better outlook.
A basic month by month guide to selling your house in the UK:
| | | | | | | | | | | | | |
| --- | --- | --- | --- | --- | --- | --- | --- | --- | --- | --- | --- | --- |
| Month | Jan | Feb | March | Apr | May | June | Jul | Aug | Sept | Oct | Nov | Dec |
| Quality | Poor | Fair | Best | Great | Good | Good | Fair | Poor | Fair | Fair | Poor | Poor |
If you are beginning the process of selling your home and you are based in Leeds or any of the surrounding areas, then please get in touch with us at Dwell-Leeds. Our team has vast experience in being able to get you the best possible
valuation
, whilst also being able to sell your property in a time frame which all of our clients are happy with.